Unidesk Training Overview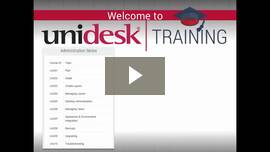 Watch: Unidesk Training Overview
The new Unidesk Training is e-Learning designed to improve your knowledge of Unidesk with self-paced courses accessible 24/7 at any time convenient to you, from anywhere.
Learn about Unidesk basics and best practices. Deep dive into administration and maintenance. Plan and prepare for installation and upgrading.
Review the courses in sequence or choose a course of interest to you. Move at your own pace, replay a lesson or skip past a topic you already know.
@UnideskCorp online training gets an A+ so far.. Getting through it to get UCP certified for @choicesolutions

— Scott Osborne (@VirtualOzzy) October 2, 2015
Customize the training to your version of Unidesk, 2.x or 3.x.
Robinson & Cole LLP

"I would highly suggest to anyone purchasing Unidesk that they complete the courses before they stand-up their production environment."

David M. Heck
Systems Integrator , Robinson & Cole LLP
Training Highlights
Each course contains a self-assessment to test your knowledge.
Use the simulations to practice in a Unidesk model before you get started.
(Not available in all courses)
Animated diagrams help explain difficult concepts.
Audio, video, animation and course transcripts provide multiple ways to learn and keep you engaged, for better retention.
Short course length allows for completing a topic in the time you have available.
Use the course glossary to lookup terms and abbreviations.
Use the course search to find specific information within a lesson.
Available Courses
Operations Series
| Course ID | Topic |
| --- | --- |
| UD101 | Introduction to Unidesk |
| UD102 | Using Unidesk: The Unidesk Management Console |
| UD103 | Using Unidesk: About Users |
| UD104 | Using Unidesk: About Layers |
| UD105 | Using Unidesk: Managing Desktops |
This series introduces the learner to Unidesk by explaining the infrastructure and concepts with easy to understand animated diagrams and videos. It provides an overview of the day-to-day, most common tasks you will need to perform by outlining procedures and guiding you through simulations. Although Unidesk greatly simplifies your VDI technology, there is still a learning component and this series will help you ramp up fast!
Total time: ~3.5 hours.
Administration Series
| Course ID | Topic |
| --- | --- |
| UA201 | Planning |
| UA202 | Installing |
| UA203 | Creating Layers |
| UA204 | Managing Layers |
| UA205 | Desktop Administration |
| UA206 | Managing Users |
| UA207 | Appliances & Integration |
| UA208 | Backups |
| UA209 | Upgrading |
| UA210 | Troubleshooting |
This series expands your knowledge about Unidesk and helps you plan and install your Unidesk environment. Learn tips, best practices and troubleshooting techniques for creating and managing Layers and Appliances, creating backups and performing upgrades. This course will increase your technical and skills for VDI success with Unidesk and prepares you for becoming a Unidesk Certified Professional.
Total time: ~6 hours.
Advanced Series
| Course ID | Topic |
| --- | --- |
| UV301 | Process and Performance |
| UV302 | Scaling the Environment |
| UV303 | Unidesk Health |
| UV304 | Advanced: Desktops |
| UV305 | Advanced: Layers |
| UV306 | Advanced: Troubleshooting |
This series deep dives into Unidesk technical details and provides advanced troubleshooting techniques. Use this series to increase your technical know-how and help prepare for the Unidesk Certified Architect exam.
Total time: ~4.5 hours.
Certification
Build your knowledge with the Unidesk certification program. The Operations Series can help prepare you for the Unidesk Certified Operations exam (UCO). Then continue with more administration skills in the Administration Series of courses to challenge the Unidesk Certified Professional (UCP) exam. Although the Unidesk Training Courses can help you prepare for the exams, they are not required. The exams are free to take and open to all.
Are you already experienced with VDI and Unidesk? If you have more extensive VDI and Unidesk field experience, you may want to challenge the Unidesk Certified Architect (UCA) exam. The Advanced Series can help you prepare but field experience in a variety of environments is required for the UCA designation.
All certification exams are free for all to challenge!
Certification Benefits
| | |
| --- | --- |
| | Recognition of your Unidesk technical skills |
| | Use of the certification logos |
| | Enhanced support experience |
| | Congratulatory Unidesk Swag |
Certified Operator
Operations Series
UCO EXAM*
Certified Professional
Admin Series
UCP EXAM*
Certified Architect
Advanced Series
Field Experience
UCA Exam*
*UCO, UCP, and UCA exams may be taken at any time free of charge. Training enrollment and training quiz completion is not required for certification..
Get Started with Unidesk Training
Individual licenses provide full, unlimited access to existing and any new training added for one year. Unidesk Certification tests are free.
Individual licenses cost $1,250 each.
Request more information on Unidesk Training.
Unidesk Training FAQ
Why should I buy Unidesk Training?
Over the last 6 months we've had our top Solution Architects (Ron Oglesby and Jeff Pitsch) work alongside our dedicated training manager to build what we think is world-class software training. Over 2,000 man hours have gone into the content, design, and implementation of our Training.
Key reasons to purchase Unidesk Training include:
As a manager, you want to give your staff the resources to be successful.
As an architect, you want to get more of your team trained on Unidesk so you can offload day-to-day management responsibilities.
As an administrator, you want a deeper understanding of all that is possible with Unidesk to improve your day-to-day performance. Not only will you understand the how (features), but the training will also address the why (concepts of layering).
If you wear all three hats, all benefits above apply!
How is Unidesk Training different than the current Unidesk Learning Center?
Our Unidesk Learning Center is designed to streamline the process of getting Unidesk installed, creating layers, and deploying your first desktops. Our new Unidesk Training is a much more in-depth, structured learning including self-paced courses, interactive simulations, quizzes to test understanding, and the ability to track your progress.
How long does Training take to complete?
Unidesk Training is broken out into three series: Operator, Administrator, and Advanced. Run-time for the Operators series is around 3.5 hours, the Administrator series is 6 hours, and the Advanced series is 4.5 hours. Since the training is self-paced and interactive, it will take slightly longer to complete each series.
How often is Training updated?
We have a dedicated team assigned to keeping our Training up-to-date based on the latest releases of Unidesk. This might include new features in Unidesk as well as new platforms that Unidesk supports.
Do I automatically receive Training updates?
Yes. If a new course is added or a course is updated, you will automatically receive the updates as long as you have an active Unidesk Training license.
How is Training priced?
Unidesk Training is priced per named user. Pricing starts at $1,250/year per license.
If there is turnover, can Training licenses be reassigned?
Yes. We realize that IT organizations are agile and resources change quickly. After 90 days, a license of Unidesk Training can be reassigned to another employee at your organization.